Miscellaneous
Super User
2020
---
06.08.2020:
Launch New Library Website by Prof. Karanam Umamaheshwar Rao, Director, NITK Surathkal:

Central Library, National Institute of Technology Karnataka, Surathkal launched its new website on 6th August 2020, on the day of celebration of 61st Foundation Day of the institute during the Diamond Jubilee Year. The website was launched by Prof. Karanam Umamaheshwar Rao, Director, NITK Surathkal through the virtual platform Google Meet. While congratulating Prof. M.N. Satyanarayan, Chairman, Library Advisory Committee, Dr. Mallikarjun Angadi, Librarian & Mr. Iranna Shettar, Assistant Librarian and the library team for developing such a wonderful and user-focused library website, Prof. Umamaheshwar Rao told that the library is the spine of the institute and various teaching departments and it is a repository of the wealth of knowledge. He also said that through this new website, we have opened a window to the outside world and put ourself across the globe to reach out worldwide audience and interact with the national and international institutions. We are trying to open the wings of the institute and spread across the globe which reflects in the logo of the Diamond Jubilee Year celebration. It is in this direction that the new library website functions and it is one of the milestones in the history of Central Library, NITK Surathkal.
The new library website was designed & developed in-house by the library team using open-source software Joomla content management system. It is a One-Stop-Centre for all the information needs of the students, staff, and faculty of NITK.
Key Features of New Library Website:
The overall website has been designed keeping the library users in mind.

Easy navigation and quick access to all library e-Resources

Remote Access to all the library e-Resources

Mobile App application for all the library services

List of Books published by faculty members

Recent faculty publications

Highlights research activities and profiles of faculty members of NITK

THREE search interfaces viz., library catalog, e-journals/databases & institutional repository

Separate section for research scholars

Live Chat facility for reference queries

Look & feel is appealing and pleasing

A One-Stop-Centre for all information requirements
2019
---
04.10.2019:
1st Sharada Pooja in the e-Library Complex
15.08.2019:
Plantation Around Library as Part of Independence Day Celebration
13.08.2019:
New Library Software KOHA Launched by Prof. K. Balaveer Reddy, Chairman, BoG, NITK Surathkal
21.06.2019:
Library Shifting to Sports Complex Started
As the process of renovation work of the old library began, the shifting work of all the books and other library materials to Sports Complex Hall also simultaniously started.
2018
---
18.10.2018:
My 1st Sharada Pooja After Taking Charge of Library
13.08.2018:
Librarian's Day Celebration
06.07.2018:
IDR@NITKS launched by Chairman, BoG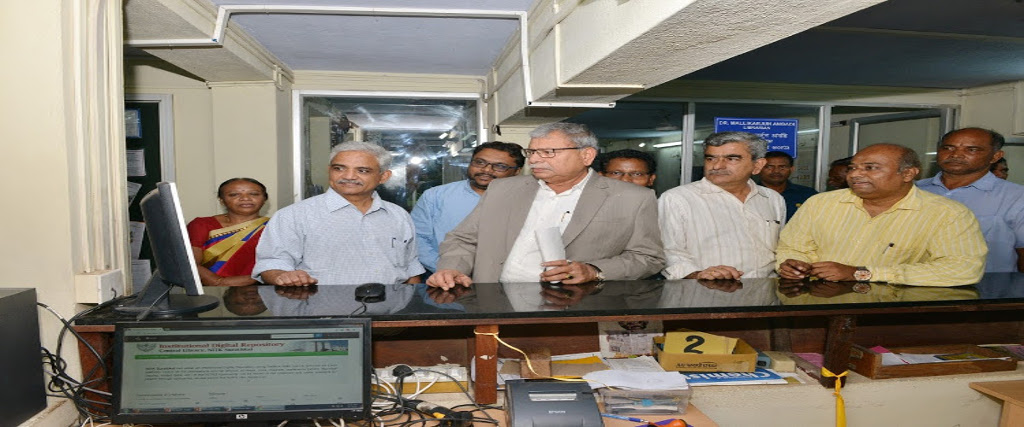 Dr. K. Balaveera Reddy, Chairperson of Board of Governors of NITK, Surathkal has launched the Institutional Digital Repository of NITK, Surathkal (IDR@NITKS) on 6th July 2018. IDR@NITKS established using DSpace open source software on Linux platform, where all the publications (journal articles, book chapters, conference papers, project reports, book reviews, invited talks, etc.) of the NITKS community will be stored in the repository and the digital collection will be available for search through various key access points like author, title, subject etc.
This service enables the Institute community to archive their preprints, post prints and other scholarly publications. In keeping with the objectives of the open access movement, NITKS expect this service to facilitate the institute researchers in self archiving and long-term preservation of their scholarly publications, provide easy access to these publications world-wide and improve impact of their research. While IDR@NITKS can be accessed by anybody, submission of documents to this archive is limited to the NITKS community.

This intuitional repository also helps to get the research output of the institute widely disseminated. This will enhance the institute reputation and thus its ability to attract high quality researchers and further research funds. Further, as the content in DSpace repository grows, it can contribute significantly to institutional knowledge management, for example, in terms of improved knowledge re-use and collaborative research.

URL to access IDR@NITKS is http://idr.nitk.ac.in
14.06.2018:
Book Labelling Work Started
26.05.2018:
Book Lamination Work Started
| | |
| --- | --- |
| | |
| First Book Laminated | Book Lamination Work Started |
18.05.2018:
Bon Voyage to Mr. Iranna Shettar for Sri Lanka visit
16.03.2018
GANAHOMA POOJA in the New Library Extension
| | |
| --- | --- |
| Programme Name | GANAHOMA POOJA in the New Library Extension |
| Date | 16th March, 2018 at 09:00 am |
| Venue | Cefetaria Hall, New Library Extension |